Creative Headshots for Models, artists and musicians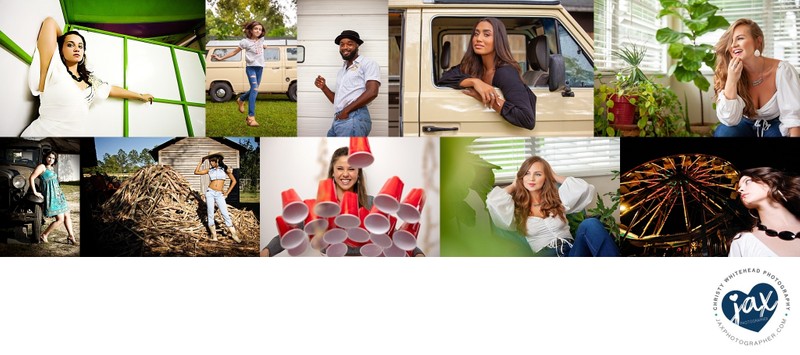 Artist headshots are typically a little more involved than regular standard headshots. They usually involve more creative situations and ideas than just a person in front of a grey backdrop.
Your session
Basic pricing is for in studio, during the week. If you need after hours, on location or something super special like special editing/Photoshop work beyond our standard airbrushing, please make sure you contact us ahead of time to make sure we can accommodate you.
Every session includes the photographer's time and talent and a review session for you to review the images on a big screen and choose your favorites. The photographer will than edit them.
Editing
We edit each image to your specifications, editing out hot spots, stray hairs, spots, whitening eyes, etc. We also provide digital airbrushing to lightly smooth the skin and provide a more polished look.
When will I get my images?
Typically within a week, but it depends on how much editing is needed and how many images there are. Sometimes, we have them ready same day. If you need a rush, please let us know. There may be a rush charge.
What should I wear?
Avoid patterns. If you have colored eyes, like blue, blue clothing will make them pop. Feel free to overpack, we can help you narrow it down once you get here.
Your hair and makeup should be done before you arrive at the studio. There is a bathroom and mirror for last minute touchups and to change.
Feel free to talk to the photographer about ideas for your shoot.
What backdrops do you have?
We have 100s of backdrops in plain colors and patterns. We also have an outside area at the studio for portraits.
Do you have access to any special props?
Yes! Christy owns a red '66 Mustang convertible. If you need something in particular, let us know and we'll see if we can acquire it for you.
Booking fee
With creative headshots, you will book your spot with the link below and pay for your session at the link. If you get to the studio and decide to upgrade packages, we will accommodate you if there is time available.
BOOK YOUR SESSION
Choose your package based on how many digitals you need OR how many backdrops OR outfit changes you would like--whichever is greater. If you have any questions, contact us.
Pricing below is for in studio. Creative portraits include a complimentary brainstorming session to discuss ideas and figure out a game plan. This may be done in person or by email. Creative portraits are a minimum $500 fee.
SCROLL DOWN for booking calendar.
in studio
Your choice of backdrops. (On location available on request.) Completely retouched, edited digital files provided.
Up to four backdrops/sets, up to 4 outfits, 15 high resolution digitals, $1,999
Up to three backdrops, up to 4 outfits, 7 high resolution digitals, $1,200
Two backdrops, up to 2 outfits, 4 high resolution digitals, $700
One backdrop/outfit, 2 high resolution digitals, $399


On Location
Pricing varies based on number of locations and where the location is. Please contact us to discuss for a custom package.
BOOK YOUR APPOINTMENT HERE:


Book a Headshot (artists)