Guide to Head-Shots
Are you ready to get head shots? Which crop do you need? Do you need a certain pose or look copied?
Here's a basic guide to help you pick which backdrops you would like and help guide us in setting up your session.
Picking a Backdrop/Location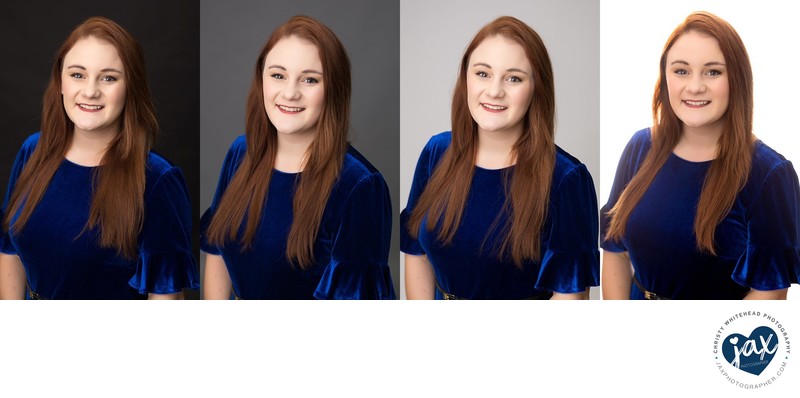 Basic backdrop colors are usually one of the above: Black, Grey, Greyish White and White (see below for different examples of white).
Black typically represents a higher end brand when you use it with packaging, etc. With portraits it can be great, but if you are a company and will need a lot of head shots, we don't recommend it as dark hair or suits may blend in too much.
Our recommendation is typically to go with grey, if we are working with a large number of people at one time. Everyone usually pops off it nicely.
White hair and white clothing may get lost on a white backdrop. However, if you are just one person coming to the studio looking for business portraits, white can be nice with a colored outfit, like shown. But we don't recommend it for large companies typically as it may not be right for every person in your organization.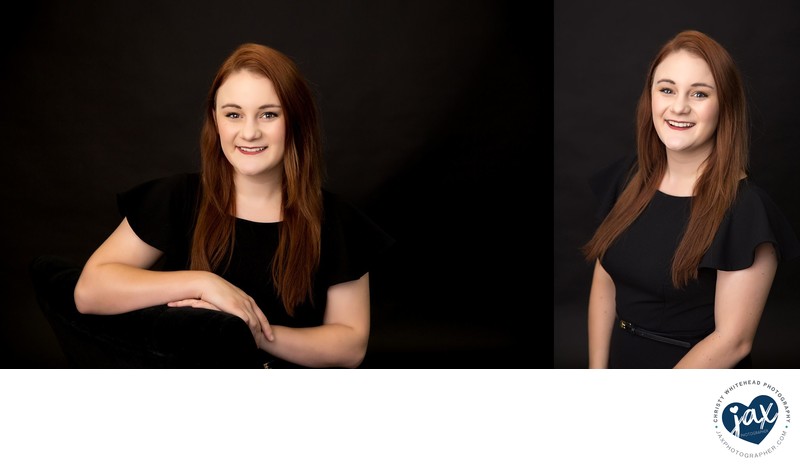 Black on black is one of my favorites. Black evokes a certain amount of luxury in branding and it just looks classic in portraits.
I love the look, but if you are needing a clear background image (see below) we can't do that with the black on black.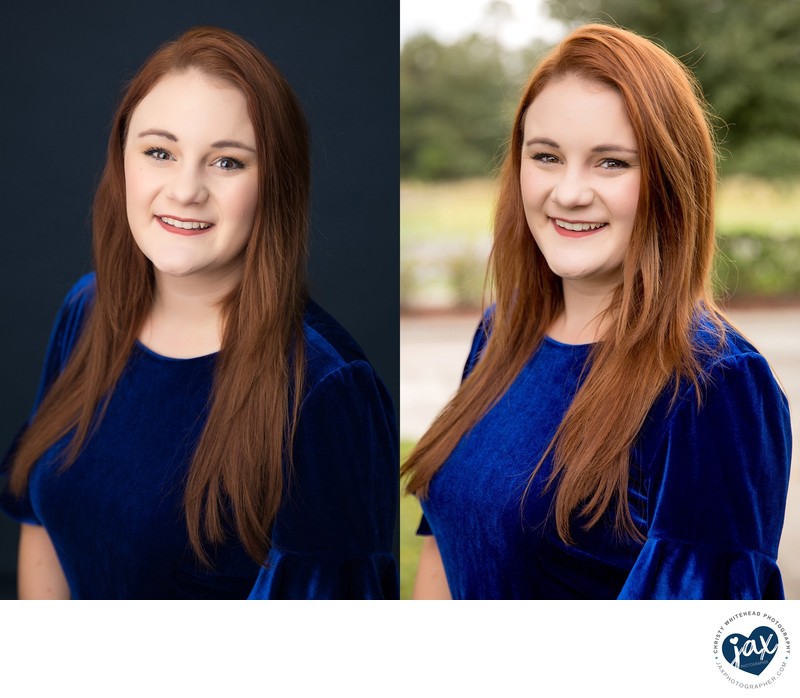 While we have 100s of backdrops in our studio. Two other popular options include our deep blue and our outside location.
Blue is a great choice as it looks good on all skin colors. And psychologically speaking for marketing, people trust blue.
Our outdoor location is perfect for a more natural look. Many business owners will choose a package that has several backdrops and we'll mix it up with in studio and outside to provide variety.
If we are coming to your business to photograph your employees and you would prefer an outside location, let us know at the time of booking so that we can set up a time to come and scope out your location to find the perfect spot.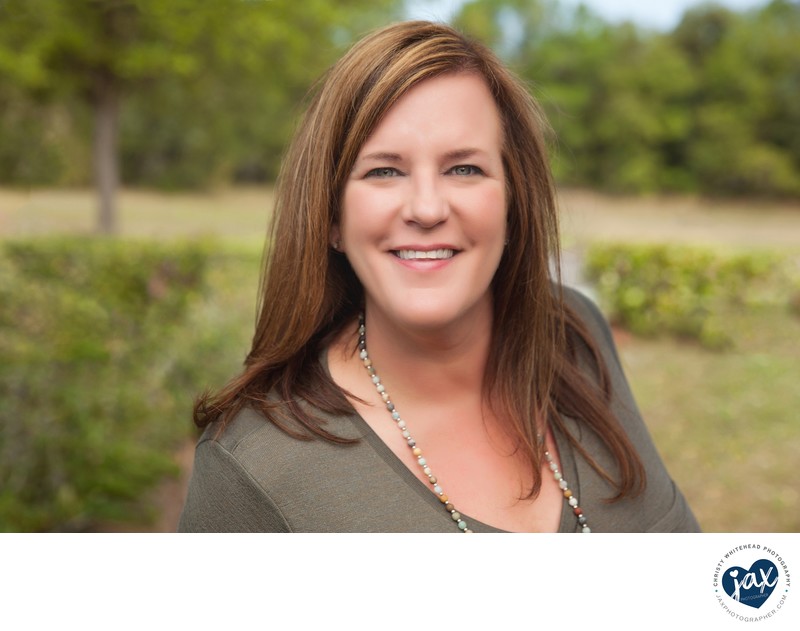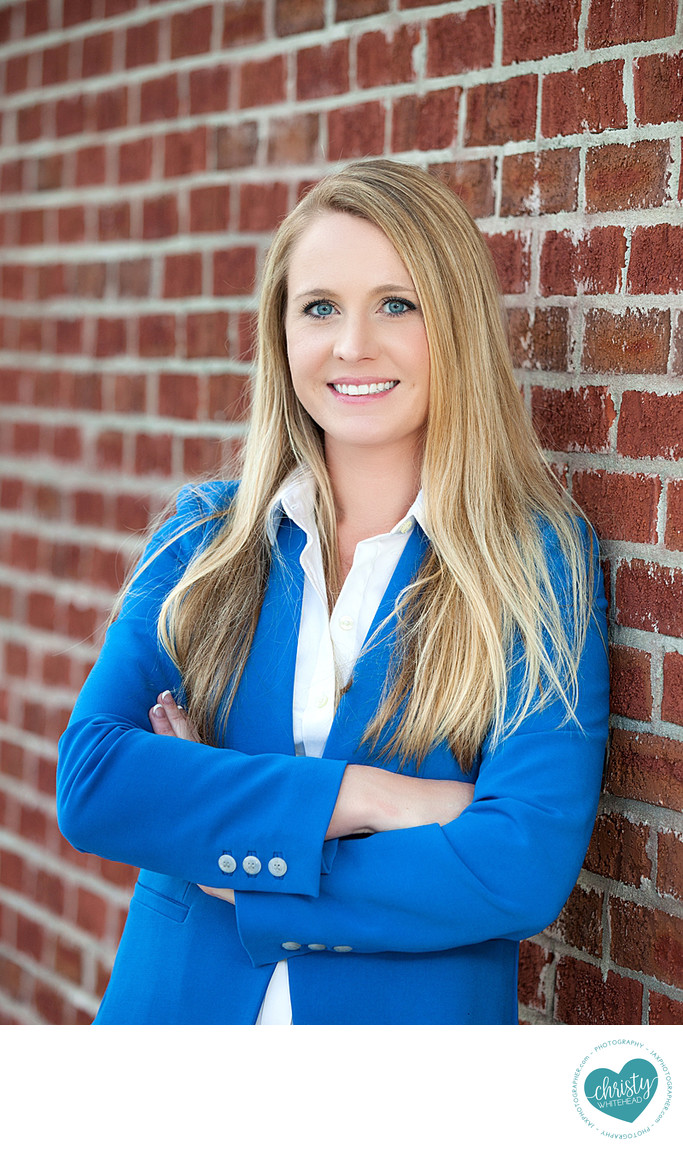 All three of the above images were also taken at our studio. If you would like the field with the overgrown grass, please ask. The field is usually available, but the grass isn't always this tall.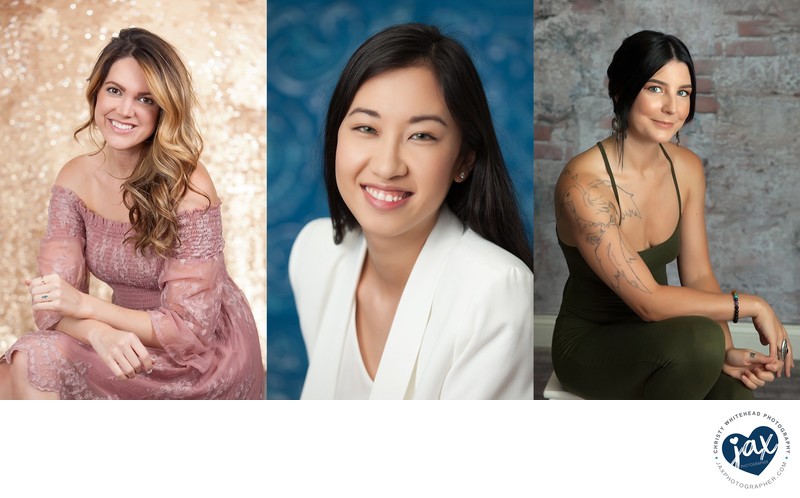 Above are three other backdrop options we carry in our studio. All three are fabric backdrops, even the brick. We have probably 100 more different options. Color or style is usually dictated by who is being photographed and for what purpose.
If you are a company with 100 employees being photographed, you would likely choose one backdrop and have everyone photographed the same way.
If you are an entrepreneur, you may choose to have the backdrop and mood match your branding, like the women on the far left and right did.
CEOs often request images of themselves at their desk, in a library or other similar background that reflects who they are, like the image below. For this CEO, he wanted his employees behind him "working." We photographed this in his lobby.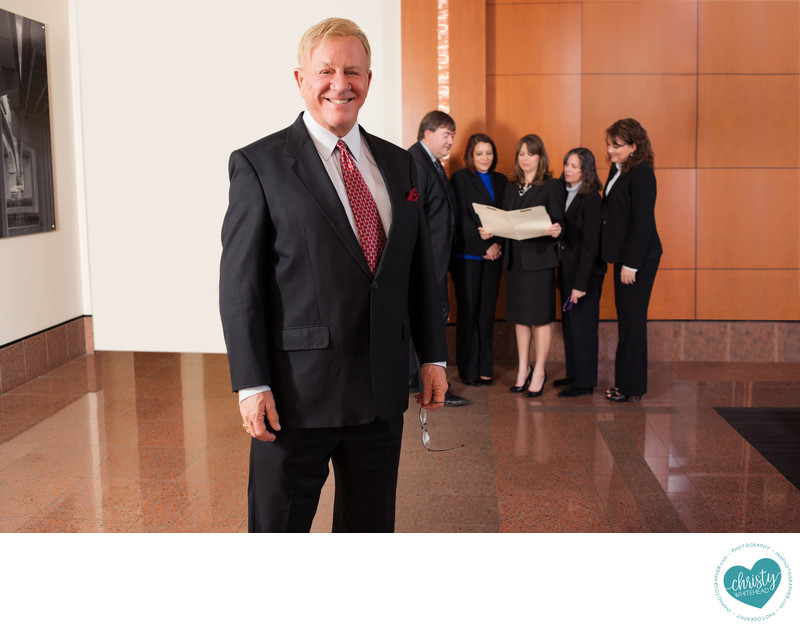 White Backdrops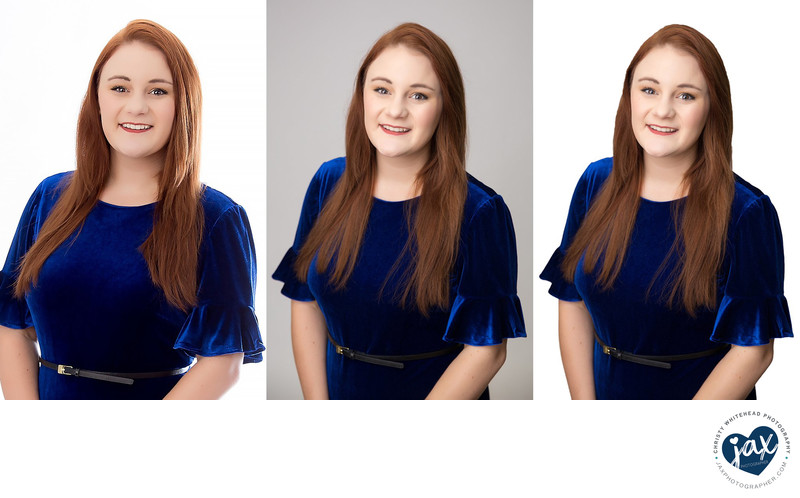 On the left is our high key white. This is a very clean look. For the purest/cleanest white, you can have the background removed and the image placed on white, like the image on the right.
The middle image is also a white backdrop but it is not lit the same, this creates a very nice light grey backdrop.
The middle and right images are the same portrait, but the backdrop has been removed on the copy on the right.
PNGS/Clear Backgrounds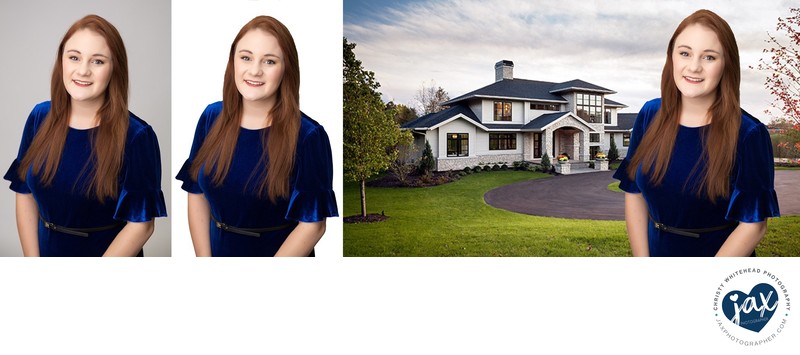 Left-Light greyish-white.
Middle-background removed and replaced with white
Right-Image with clear background/PNG file placed on background.
Many of our clients, especially realtors, request a grey backdrop and then have us remove the background and provide them a copy with a clear background. This is called a PNG file.
A lot of businesses like to drop these images in front of another image. For example, the image on the right was put in front of a house (house is not my image, just used for reference).
Poses/Cropping of Image
Do you have a specific crop in mind? Many businesses say head-shot, but they want head and shoulders or waist up.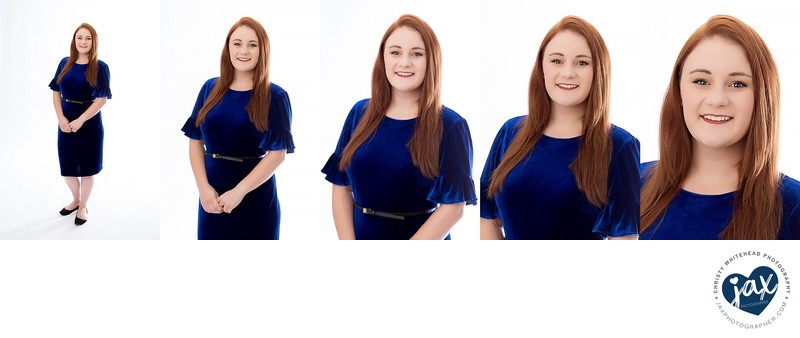 If you are having these portraits done for name badges, a strict headshot, like the image the farthest right, is probably what you need.
Professionals for a website and real estate agents typically want one of the last 3 options from above.
If you will be having the backdrop removed so you can have the image placed in front of something, like the home example above, you'll want one of the first 3 image crops. We'll need to know this so that we don't crop into your arms/sides. (Having your image in front of the house with half your arm cut off would be awkward.)
Full body shots are usually only needed if you are getting a package of several images/looks. Sometimes with book authors we'll do a full body shot as one of their image options. We've also done this with CEOs of companies in conjunction with a more traditional business portrait, so they can have variety for annual reports, newsletters, etc.
Vertical vs. Horizontal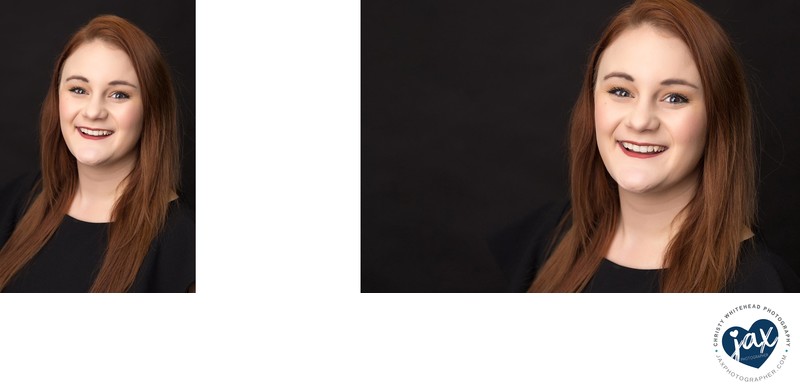 Typical business portraits are shot in a vertical format, like the left. However, a more modern approach is horizontal. Both images above are from the exact same shot, just cropped differently. Do you find yourself drawn to one over the other?
Some popular reasons to choose horizontal:
1-Want to use the space for ad copy (great for a Facebook cover with your information).
2-Business card information can be put on the side (see example below).
3-This is a more modern crop for actors and entertainers and preferred by many.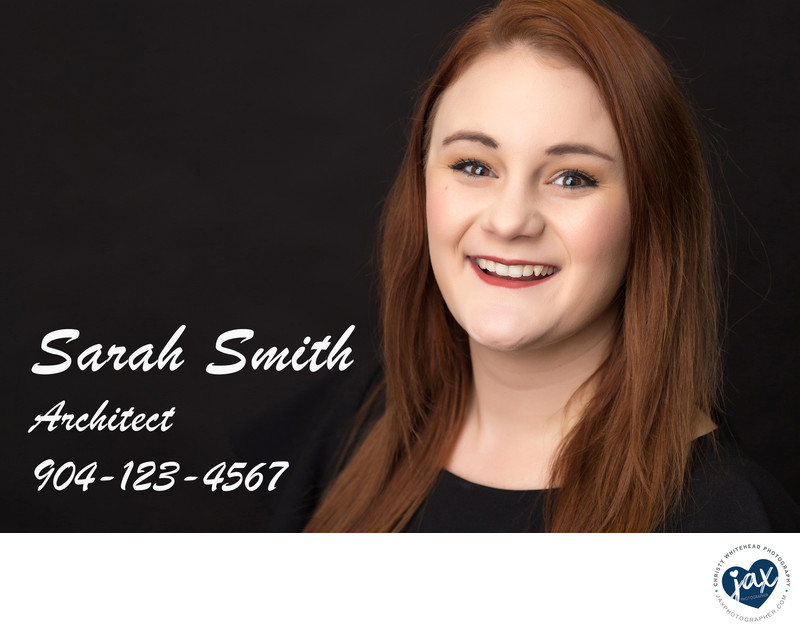 Editing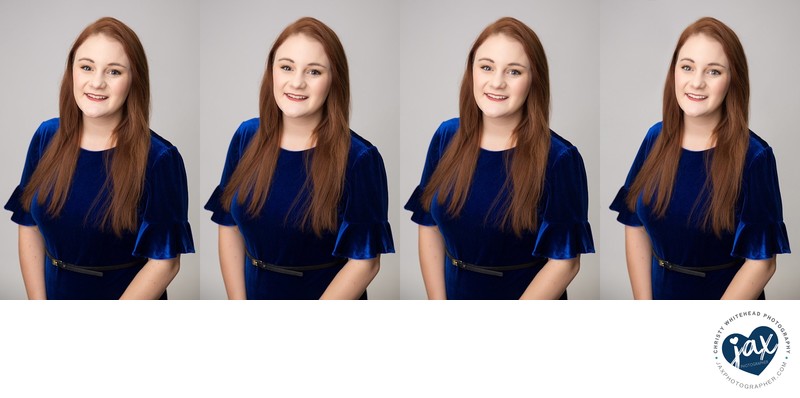 Left: Standard image.
2nd from left: Basic airbushing to smooth skin tone.
3rd from left: Advanced Retouching. Acne, scratches and bruises are removed and teeth and eyes are whitened as needed.
4th/last image: All of the above, plus any special requests. For our model, we thinned her out, pushed in her hair a little a hair, took out a scratch on her face and evened out her eyes.
For single head-shots in our studio, advanced retouching is included and you will sit with the photographer and watch her edit and let her know anything you would like done, including being thinned out and wrinkles removed, upon request.
All of our standard sessions include basic airbrushing at no extra charge. The skin is slightly smoothed to create a more even tone. This looks great on both men and women.
For larger companies who will be using these images on more than just name tags, we usually recommend Advanced Retouching. With this, we'll go through each image and whiten teeth and eyes as needed. Acne, scratches and bruises will be removed. We'll also color correct skin tones for those who photograph really red or orange. Some companies also allow their employees or agents to make requests like "to be skinnier" or to have wrinkles removed.
In conclusion
There are a lot of different options, hopefully this guide helped.
Here's what we need to know to create the best possible head shot for you:
Will these be taken in studio or on location?
What color or style of backdrop/background do you want? (Or will there be several?)
How do you want the image cropped?
Do you need clear backgrounds/PNGs as well?
How soon do you need these done?
If you are a large company having multiple people photographed, I'll also need to know:
Do I need to match other portraits done for the company (in pose, background, etc)?
Will each person need their own online gallery? (And if each person is getting their own gallery, do they need to be individually password protected?)
How much editing would you like done on each image? (Basic airbrushing or Advanced Retouching?)
Do you need each file individually named with the employee's name or ID?
Any other information we may need to know to do a successful job?