Headshot Booking Info

Thank you for considering JaxPhotographer.com for your headshot needs, we are here to provide you a painless headshot experience.
Your session
All of our portrait sessions are typically in our studio. If you need a session on location or at your location, please contact us about pricing.
If you need to book for several employees at your location, please contact us for bulk pricing/information.
Editing
When working with small groups or individuals to do headshots, we typically photograph each person and then immediately review the images with you to narrow down your favorites. After that, we edit each image to your specifications, editing out hot spots, stray hairs, spots, whitening eyes, etc.
When will I get my images?
Headshots done in studio with less than 5 people are usually delivered via an online gallery within 24 hours, but usually within the hour.
For larger groupings, and on location sessions, turn around depends on what is required and needed.
What should I wear?
Avoid patterns. If you have colored eyes, like blue, blue clothing will make them pop. Feel free to overpack, we can help you narrow it down once you get here.
Your hair and makeup should be done before you arrive at the studio. There is a bathroom and mirror for last minute touchups and to change if you would like.
What backdrops do you have? Do you have any other information?
Yes! We have a whole page with headshot information, check it out here.
Booking fee
With headshots, you will book your spot with the link below and pay for your session at the link. If you get to the studio and decide to upgrade packages, we will accommodate you if there is time available.
BOOK YOUR SESSION
Choose your package based on how many digitals you need OR how many backdrops OR outfit changes you would like--whichever is greater. If you have any questions, contact us.
Pricing below is for in studio. There is a $500 minimum for on location. Please contact us if you would like on location. (Our studio does have an outdoor area that we often use for no extra charge. See information here.)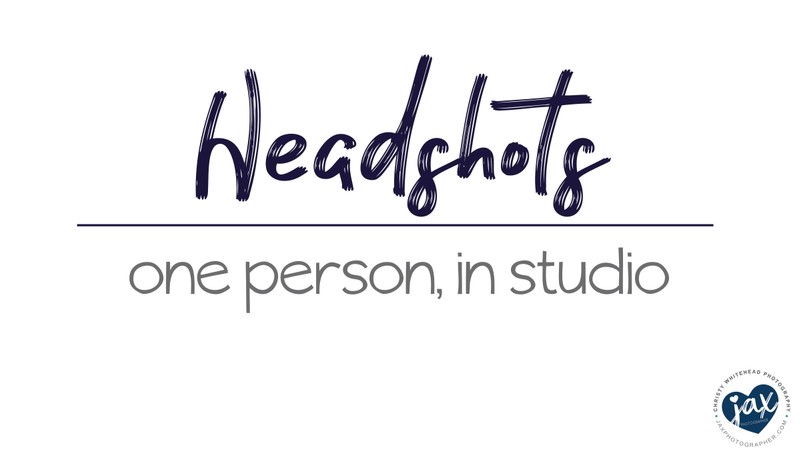 Your choice of backdrops.

Airbrushing/editing included.

Images typically available within 24 hours.
CLICK ON THE PACKAGE YOU WOULD LIKE,
TO BOOK:
20 digitals, up to 5 outfits & 5 backgrounds, $1,399
15 digitals, up to 4 outfits & 4 backgrounds, $999
10 digitals, up to 3 outfits & 3 backgrounds, $799
6 digitals, up to 2 outfits & 2 backgrounds, $450
3 digitals, up to 2 outfits & 2 backgrounds, $299
1 digital, 1 outfit & 1 background, $199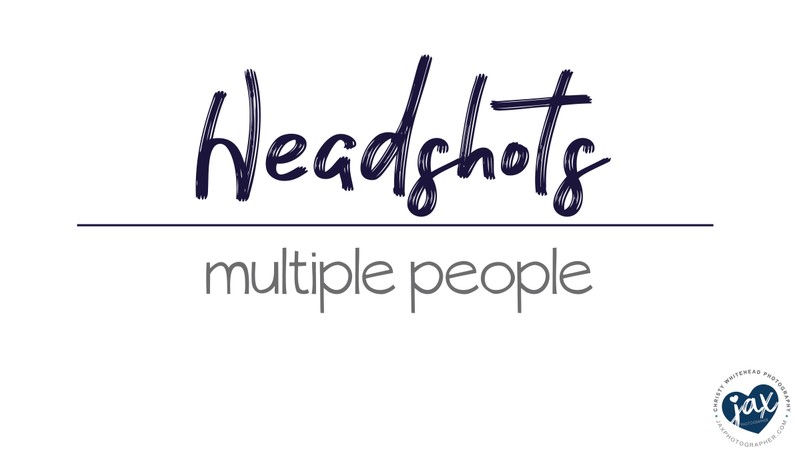 In our studio or at your location.

Different options available from allowing your employees to pick their favorites or having us do it. Editing on site, or just a standard editing on all.


Bulk Pricing Available,
For A Custom Quote
Jacksonville, Florida photographer. We specialize in newborns, families and corporate photography. Our North Florida service areas include: Jacksonville, Jacksonville Beach, Ponte Vedra, Fernandina, Amelia Island, St. Augustine, Orange Park, Fleming Island, MacClenny, Middleburg, Maxville, Yulee and Callahan. For more information and to get a custom quote, please contact Christy directly. Christy Whitehead Photography, 514 Chaffee Point Blvd. #9, Jacksonville, Fl 32221 - (904) 891-0359